The History of Reutter Miniaturen GmbH
The 24 year old Martl decided to start an apprenticeship as a potter.
Founding years 1948 – 1954
Martha "Martl" Zimmermann was born on the 19th of September in 1921. During World War II she worked as a teacher in Posen, Germany.
The uncertainty of finding appropriate employment after the war was very high, therefore, the 24 year old Martl decided to start an apprenticeship as a potter. Her final work as an apprentice was to create a special journeyman's piece.
That Christmas her pottery teacher gave his daughter a doll's house for which Martl had to potter tableware in several variations, for the little girl to use to play. The little girl had a lot of joy with the small doll's toys.
At that time there was no possibility to buy such toys for the doll's house. It was also very expensive to produce tableware in such a small size. The final work turned out to be quite difficult for the young Martl.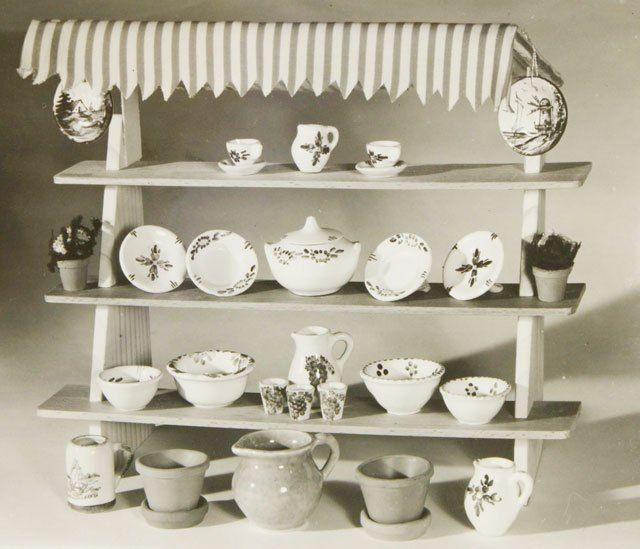 By doing this particular journeyman's piece, Martl improved her professional skills in pottery and learned to reduce large shapes to small shapes and to adapt them to the scale of the doll's house. Little by little her enthusiasm for creating small pottery pieces became a passion for miniatures.
Driven by passion and talent, Martl decided in 1948 to found a small business, the former Reutter Porzellan GmbH (from which today's Reutter Miniaturen GmbH developed), which was entered in the commercial register as a small pottery workshop in the same year.
Not until 1954 were the porcelain items marked with a golden stamp of the cloister of Denkendorf and with lettering "Denkendorf."
In 1948 Martl married Willy Reutter. In 1956 Willy left his position as a precision engineer to help Martl with the company. Willy Reutter's background in precision engineering and machine construction later lead him to develop a method of extruding small porcelain pieces out of a lifting press.